We love natural cosmetics. Chemical and artificial substances will never defeat natural ingredients that are extracted from ecological crops.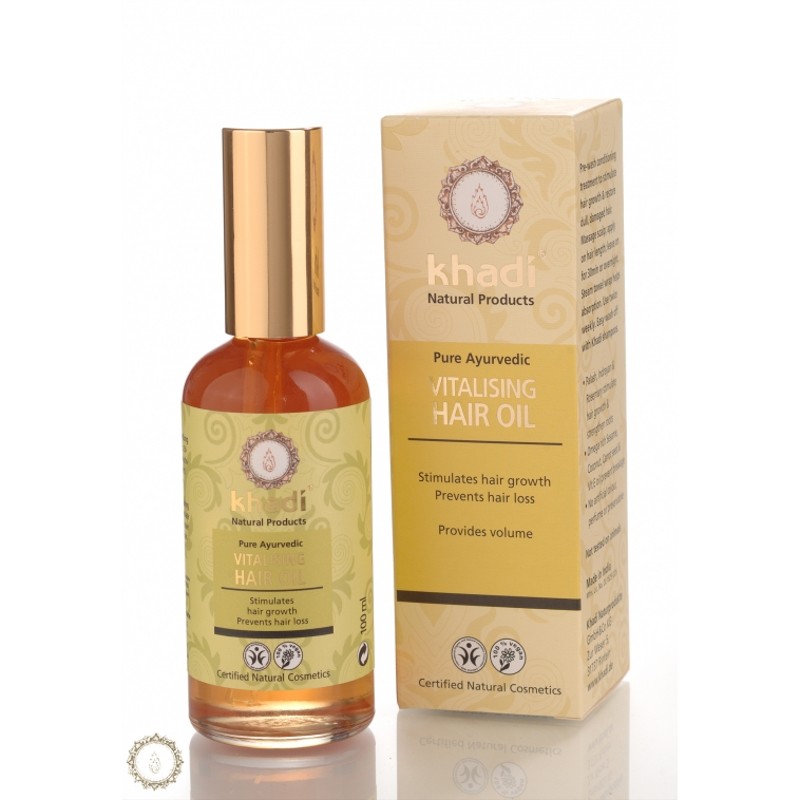 Indian company – Nitai – calls itself the fruits of the passion for Orient, Ayurveda and healthy lifestyle. Khadi products, including natural hair oils, are the most popular cosmetics launched by the company.
Pure Ayurvedic Vitalising Hair Oil has gained great popularity. It is designed to deliver vitality, deep repair and strength. The oil works for all hair types, especially for falling out, weak, shine-less and prematurely greying hair. Its action is based on the combination of natural oils with Ayurvedic herbs valued for ages for their conditioning and repairing (hair and bulbs) qualities. These herbs are most of all: bhringraj, brahmi and amla. They are most common in Indian hair products. They complement each other to provide hair with the best care possible.
Bhringraj – this herb blended with natural oils makes a weapon against hair loss. Bhringraj enhances hair growth and penetrates deep inside hair bulbs, therefore makes hair grow healthy and strong. If you struggle with troublesome dandruff or other scalp conditions – bhringraj is going to help you fight them off.
Amla – it is an excellent addition to bhringraj herb – adds shine, thickens hair, makes hair bulbs work more efficiently and superbly speeds up hair growth.
Brahmi – deals with premature greyness and hinders hair loss, cleanses the scalp and regulates work of sebaceous glands.
Pure Ayurvedic Vitalising Hair Oil with bhringraj and amla is enriched with natural oils which moisturise and repair hair, slow down ageing processes, help to rebuild hair structure and protect from damage. Pure Ayurvedic Vitalising Hair Oil with bhringraj and amla contains sesame oil, coconut oil, castor oil and rosemary oil.
Pure Ayurvedic Vitalising Hair Oil comes in a nice aesthetic glass 100 ml bottle. It is very efficient. The glass pipette makes the application easier. Pure Ayurvedic Vitalising Hair Oil with bhringraj and amla has a strong herbal scent which vanishes after shampooing hair.