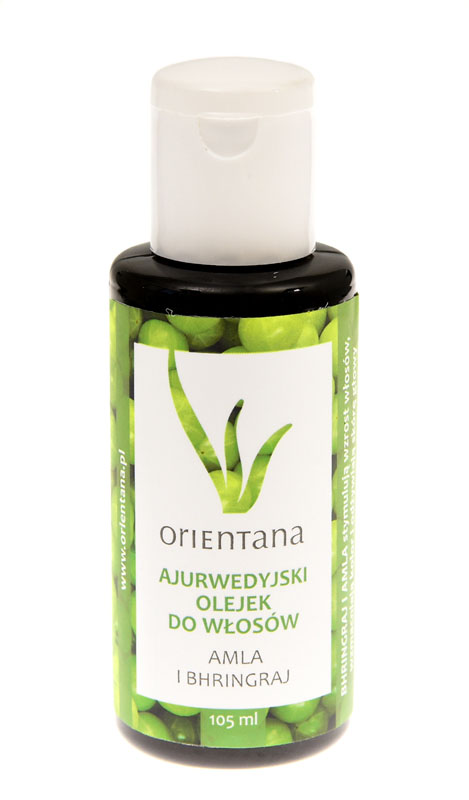 We should all learn the methods of hair care form Hindu women. Only a glimpse on their beautiful, shiny and healthy hair helps you understand that they know the secret of hair care. Not everyone os aware of the fact that in India, hair is not only a sign of beauty but also healthy and social situation. 
In order to take a better care of hair, women of the Orient follow the rules of Ayurveda – old, medicine and philosophy of the East. The main ingredients used are natural oils, herbal extracts known for ages as strong elixirs of beauty.
Orientana brand, known for natura and prestigious cosmetics, released a series of hair oils, which effects are based on the rules of Ayurveda.
One of the best cosmetics from Orientana is Ayurvedic amla and bhringraj hair oil.
The product has the capacity of 105 ml and comes in a plastic bottle decorated with a photo of amla fruit. Inside, you will see a green liquid. The oils has rather runny consistency (despite the presence of oils, all hair products that contain extracts of Indian herbs appear in runny consistency). The cosmetic is very efficient and will last long. A single treatment requires only up to 5 ml of the liquid. Amla and bhringraj oil from Orientana should be applied on hair as well as scalp. Moreover, hair oils like to 'spend some time with our hair'. The best solution is to leave the product in overnight and wash it off in the morning. Remember to use a gentle shampoo free of SLS and SLES.
Orientana hair oil, apart from the above mentioned herbs, also contains many natural oils, such as:
Sesame oil – which regulates the work of sebaceous glands
Coconut oil – which protects hair from damage and provides shine
Almond oil – a very gentle oil, moisturises wisps
It is also worth describing the properties od herbs, valuable in Ayurveda that are a part of the Orientana product:
Bhringraj (Eclipta Alba) – is a herb that prevents hair loss and premature greying. Treatment with bhrigraj should be done by everyone who want to grow their hair, due to the fact that this herb stimulates hair growth. What is more, bhringraj eliminates dandruff and takes care of scalp. Thanks to using this her regularly, you can be sure that your hair will regain shine and softness.
Amla (Emblica Officinalis) – nurtures hair and is a perfect company for bhringraj. It strengthens hair bulbs , eliminates dryness of the skin. Restores shine, softness and resilience.
Orientana oil with amla and bhringraj will work wonders on damaged hair. The key is to use it regularly, only then your wisps will gain shine, density, stop falling out, start growing faster and maintain good condition.